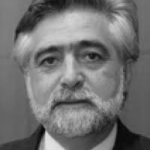 He has a degree in economics by the Technical University of Lisbon.
International consultant, Chairman of Funchal International Bank (BANIF), member of the board of Madeira Development Society and Guest Professor at the School of Social and Political Sciences, in the Technical University of Lisbon and at the Nova Business School in the New University of Lisbon. Member of the board of the Orient Foundation, he was auditor of the National Defense Institute, auditor at the Court of Accounts and visiting professor at Georgetown University.
With a long political carrier, served namely, as member of the Madeira regional parliament, and member of the national parliament in Lisbon, and was member of several governments, as deputy minister for internal affairs, deputy minister for external affairs and development cooperation, and also as Minister of Defense and Minister of State and Foreign Affairs.